Nothing is dispensable.
Have you ever concerned the tiny parts in your life? Do you know how they work well together in order to create a great picture we usually see? Our client, an expertise in Smart Phone and Tablet components and accessories trade, knows which part will be perfectly fit into a certain place. By striking a balance between quality and price, a finest product will then be presented to their end user.
This is very similar to what we are doing right now - getting all the valuable components we have in hand and join them together to create a piece of artwork. For this website, we have focus on some fine details such as colour theme, navigation bar, and animation to link up all the elements. We hope these features could help to create a neat and high-technology which matches the business nature of our client.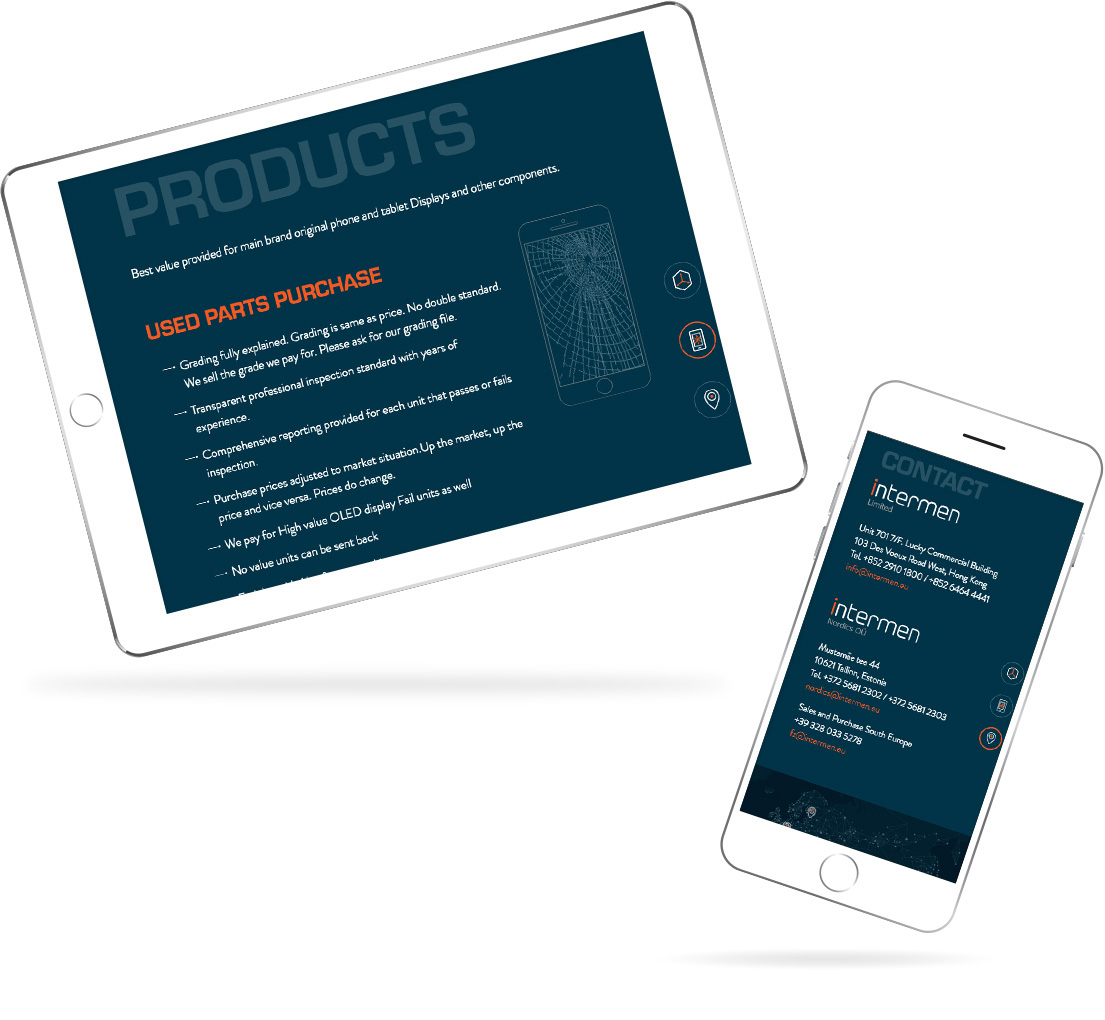 Based on the logo provide by client, it was placed on a white background before but we think the technological theme of the one-page website could not be presented perfectly if the main color is too bright. Therefore, we have utilised the font color - deep blue as the main color. When certain white and orange graphic are added randomly on the page, it would actually look like the light on little gadgets and get people's attention on some main points.

Animation is what we think would give a crucial touch to the webpage. For the subtitles, we adopted a typing effect to show the technological feel and catch people's eye. However, you may think that what we have done for the graphic animation are much more interesting and attractive. To bring our effort in line with our client's business, we have succeed in separating and combining a mobile graphics to let the users have a concept of what is this website telling them.
We could never forget how the navigation bar could help to direct users to different sections in the website. Overall, the website is so clean and simple, we do not want to make it heavier by adding more words for navigation. Therefore, we decided to use 3 sticky icons that have already appeared on the landing part.
A one page website may sound easy to you, but no matter how easy it is, we will never miss anything and present the full picture to audience.