YSD Story, Philosophy & Culture
The name, YSD, is abbreviated from Yeung's Design Interactive Limited. It was born in January 2000, found by Ivan Yeung and Eddy Yeung.

Guess what? They are brothers. One day, Ivan asked Eddy about what's he going to do while Eddy was working with his Macintosh computer. Eddy replied that he aimed to be a website designer and was job-hunting in this industry, yet there was a slim chance of getting one as the Internet was underdeveloped in Hong Kong at that moment. Meanwhile, Ivan realised that he also loved design and the internet. An idea was then taken shape in his mind. He discussed with Eddy about setting up a company that could give confidence and make commitment to clients because they were dedicated to their business, instead of being freelancers. After all, YSD was established.
Our goal is to create designs that are new, fresh and impressive to match our customers' unique corporate image. YSD's team discussions and meetings include our opinion, analysis, research and development. We believe that these are the essential steps for us to come up with our creative and unique ideas. We enjoy this procedure of work and treat it as a part of our life.

We value high quality, service, creativity and uniqueness. We will only deliver the best designs to our customers and nothing less. We are known to provide excellent and professional service to each and everyone of our customers.

20 years since our foundation, we decided to change our name from Yeung's Design Interactive Limited to YSD HK Limited (維思特香港有限公司). This renaming signals that YSD has grown from 2 founders into teams of professionals. From now on, our business will be led by our ever growing, aspiring and cooperative teams. This renaming was effective since 26th Apr, 2019.

Though our name has been changed, our contact and office location remain the same, and you are welcome to reach out to our help at the same location, with the same contact numbers.

What's more, after 20 years of working in this field, our company philosophy and culture gradually form in our mind. They are as follows:

--Company Philosophy--
Strive for employees' material and emotional well-being. Promote creativity, efficiency, quality and convenience in daily life. Be the best web design and advertising company. Contribute to the society with our well-designed web solutions.

--Company Culture--
Life-long learning, Altruism, Team growth

These philosophy and culture now serve as our guidelines and support our everyday professional work.

LOVE DESIGN AND TECHNOLOGY
We enjoy customers' expression of being impressed when they see our designs, which are arranged properly and beautifully. By seizing the clues of design and the technology correctly, we firmly believe that it can enhance the user experience.
Keeping our eyes on different industries' designs around the world through the daily practice of surfing the Internet and sharing, we received much fruitful information that have motivated our growth, such as stunning animation effects for website, mobile apps development and advertisements, or special printing effect, fancy paper with different texture.
LOVE DETAIL AND ACCURACY
We care deeply about every single detail in our design, image, content, alignment, font size, a line, a dot, and even a punctuation. We always check all of these meticulously before approving and deliver it to the client. For instance, a website, we will assign our team to check browsers on all common modern desktops and mobile devices since they may differ in rendering results; for a brochure, we will check once over the computer and fine-tune it, then we print out the hard copy and proof read two more times by two different teammates to ensure that mistakes are nowhere to be found, such as spelling and punctuation mistakes.
LOVE RESPONSIVE INTERACTION
Everyone loves to communicate with people who can response quickly and positively, this is the way we reach out to our clients, answering questions and providing advices at the earliest. As we see it, issues can always be figured out and solved immediately if positive communication can be achieved.
Our Branding Guideline
We wanna bring our logo to life, a positive and nice impression, it can greet everyone anytime when you see YSD. Details can view our branding guideline.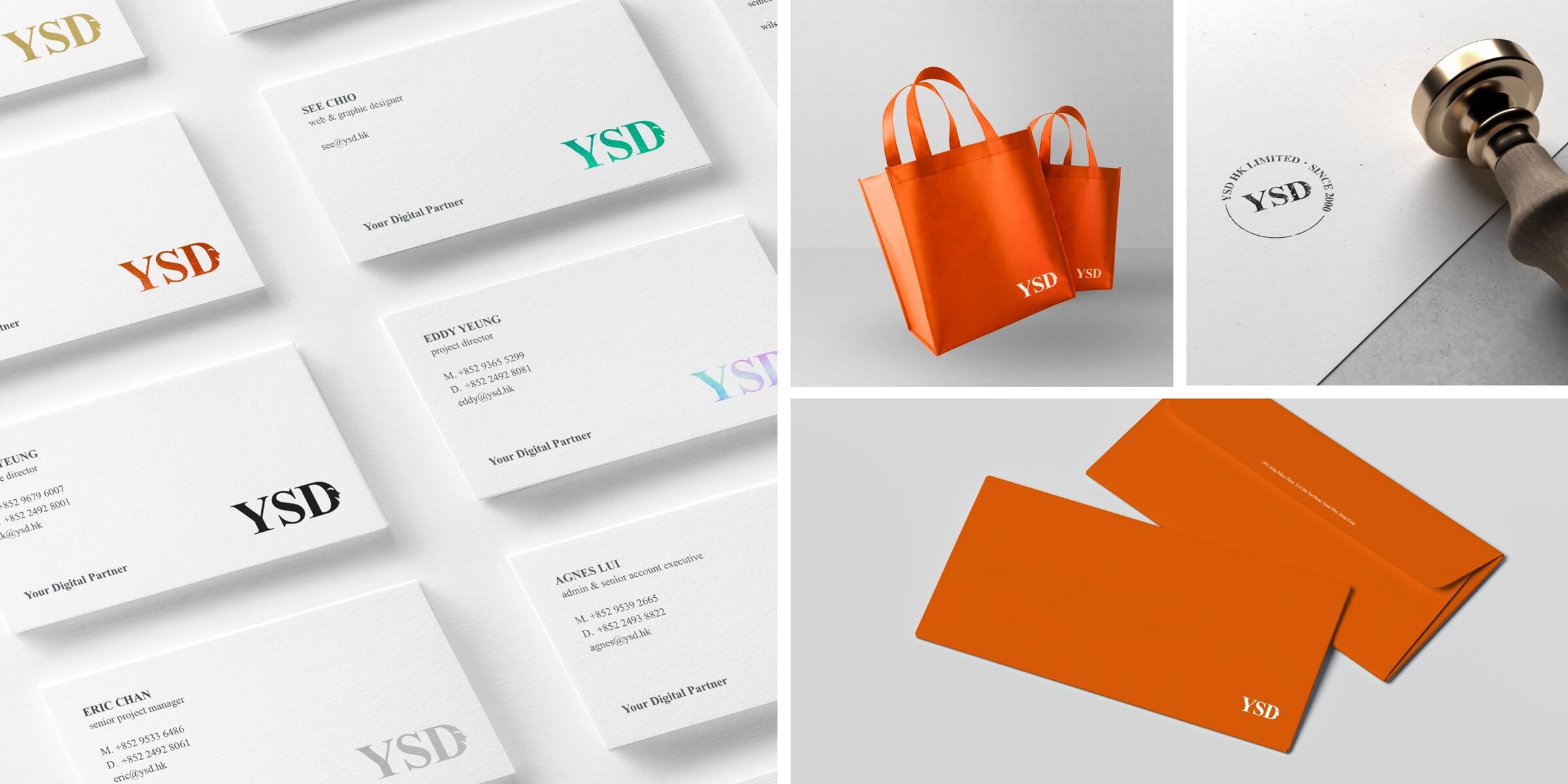 BECOME ONE OF US
If you are hard-working, smart, responsive, want to make quality work and passionate about advertising, design or program, you are welcome to become one of us. Interested parties please email your CV and expected salary to career@ysd.hk


Business Development Executive

Responsibilities:
- Promote our services and solutions to potential customers
- Responsible for developing new business opportunities

- Prepare proposals for web / mobile / IT solution project

- Monitor promotion activities to ensure its effectiveness
- Maintain effective communication with both internal and external parties
Requirements:
- Self-initiative, responsible, good communication skills, and a team player
- Creative and good sense in web / mobile / IT solution design

- 1-2 years of working experience and good experience in the internet
- Proficient with general computer, e.g. Microsoft Excel, Words, Powerpoint … etc

- Self-motivated and responsible

- Immediate available is preferred

---
Account Executive
Responsibilities:
- Website & Design Project Coordination and Management
- To lead all tasks in project requirement gathering and task allocation
- Follow up with Customer requests of the project
- To prepare project documentation such as schedule, checklist & UAT etc.
- Manage multi projects, provide status reports and ensure project delivery on time
- Conduct system testing, feedback and coordinate with the development team


Requirements:
- Self-initiative, responsible, good communication skills, and a team player
- Good command of written and spoken English / Cantonese / Mandarin
- Knowledge in design, website, mobile APPs & E-commerce user experience
- Experience in the Web / Graphic design industry preferred
- With Heart and Passion in Design Industry
- Immediate available is preferred

---
Senior Digital Marketing Account Executive
Responsibilities:
- Develop and maintain close client relationship of social networking
- Developing customer centric proposal to clients.
- Manage online marketing campaigns for corporate clients by having deep understanding and ability to analyse ROI/CPA goals and data, media buying cycle, website architecture, marketing philosophy, etc
- Work closely with in-house ad-ops team on campaign implementation.

Requirements:
- Minimum, 5 years of digital marketing experience (experience from an agency or digital marketing industry is a plus)
- Excellent corporate written and verbal communication skills in Chinese and English
- Open-minded and creative
- Problem identifier and solver
- Strong attention to detail and organisational skills
---
PHP Programmer / Web Programmer
Responsibilities:
- Focus on front-end HTML / CSS / Javascript Development
- PHP Programming of System Development
- Database Scheme, System Workflow, and Interface Integration
- Writing programming codes and conducting testing

- Work close to the project and ensure requirements and schedule are met

Requirements:
- Experience in web programming using PHP
- Familiar with PHP, MySql, jQuery, AJAX, Javascript, HTML5 and CSS3
- Good concept on Object Oriented Programming
- Self-motivated; Responsible; Mature; Aggressive
- Knowledge of WordPress and Magento would be an advantage
- A hard-working, energetic, willing-to-learn, responsible team player
- Immediate available is preferred
---
Server Engineer
Responsibilities:
- Hands-on experience in Cloud Server Setup
- Familiar with virtual machine technology
- Server OS: Linux CentOS, Ubt...

- Infrastructure as code, e.g. Docker, Kubernetes
- Http Server, e.g. Apache, Nginx
- Cloud Deployment, e.g. Google Cloud, AWS, Azure


Requirements:
- Degree/Higher Diploma in Computer Science or related disciplines
- Manage Cloud VM Server & System Development of Web/APP
- Knowledge of Elastic Search would be an advantage;
- Able to handle multi-projects under pressure and tight schedule independently
- Self-motivated; Responsible; Mature; Aggressive;
- A hard-working, energetic, willing-to-learn, responsible team player
---
Web/Graphic Designer
Responsibilities:
- Responsible for creating web & mobile UI/ UX design, layouts, graphics, and interface for online/ mobile platforms
- Maintenance / Update of Website
- Design and Production for an online campaign
- Assist in ad hoc projects as assigned


Requirements:
- Diploma or above holder in Web / Multimedia Design

- 1-2 years of working experience in Website Building
- Knowledge of HTML, CSS, jQuery, and javascript

- Hands-on experience with Photoshop, Illustrator, Figma, Webflow

- Self-motivated and responsible

- Fresh graduates or candidates with less experience will also be considered

---
Art Director / Senior Web Designer
Responsibilities:
- Responsible for creating web & mobile UI/ UX design, layouts, graphics, and interface for online/ mobile platforms
- Maintenance / Update of Website
- Design and Production for an online campaign

Requirements:
- With Heart and Passion in Design Industry
- Creative and good sense in graphic design
- 3 years of working experience and Good Experience in Web Design UI/UX
- Candidates with less experience will be considered as Senior Web Designer / Web Designer
- Knowledge of HTML, CSS, jQuery, and javascript

- Hands-on experience with Photoshop, Illustrator, Figma, Webflow
- Self-motivated and responsible
- Open mind and Learn new things proactively
TEAMWORKS